20 Winter Wedding Invitation Ideas You'll Fall in Love With
Hosting your wedding in one of the colder months? Here are some of our favourite winter wedding invitation ideas to help you sort out your stationery.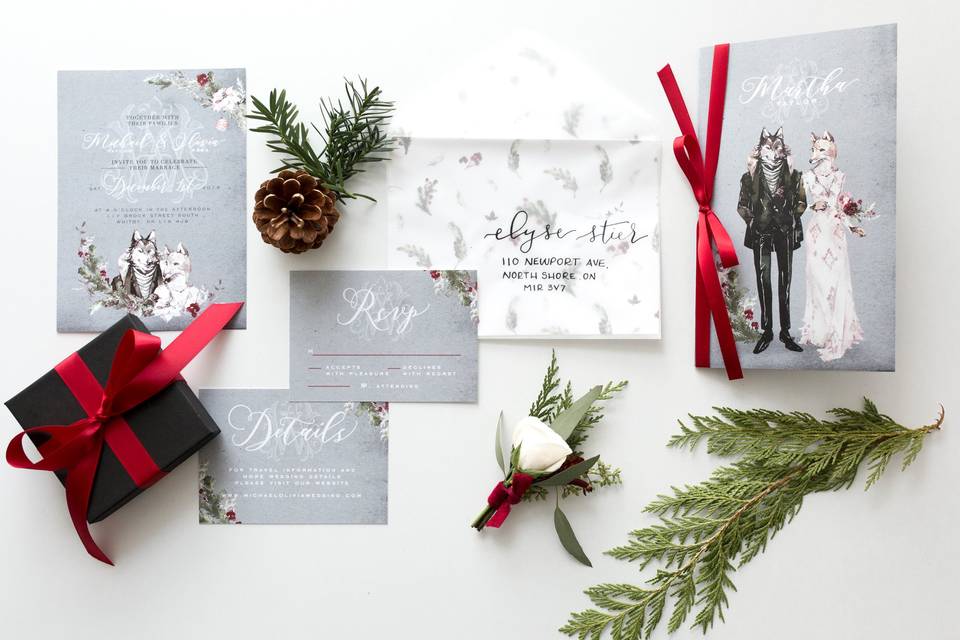 If you're hosting your celebration in one the colder months, naturally you'll want a winter wedding invitation design to match what'll be going on outside. We've rounded up our absolute favourite winter-themed wedding invitations ideas from vendors and real couples to help you put together your dream wedding stationery. P.S. you don't have to copy these completely – in fact, you could steal elements from all of them or just borrow one or two for your save the date cards and winter wedding invitations.
Here are a few wedding invitation ideas you'll fall in love with.
Elegant winter wonderland
This couple chose a dark blue-hued base and added a shadow graphic of trees and white flecks of snow to finish everything off. A gold snowflake detail and gilded names written in script add a touch of elegance to what could be a pretty playful invitation style. Honestly, if this design doesn't scream elegant winter wedding to you, I don't know what will.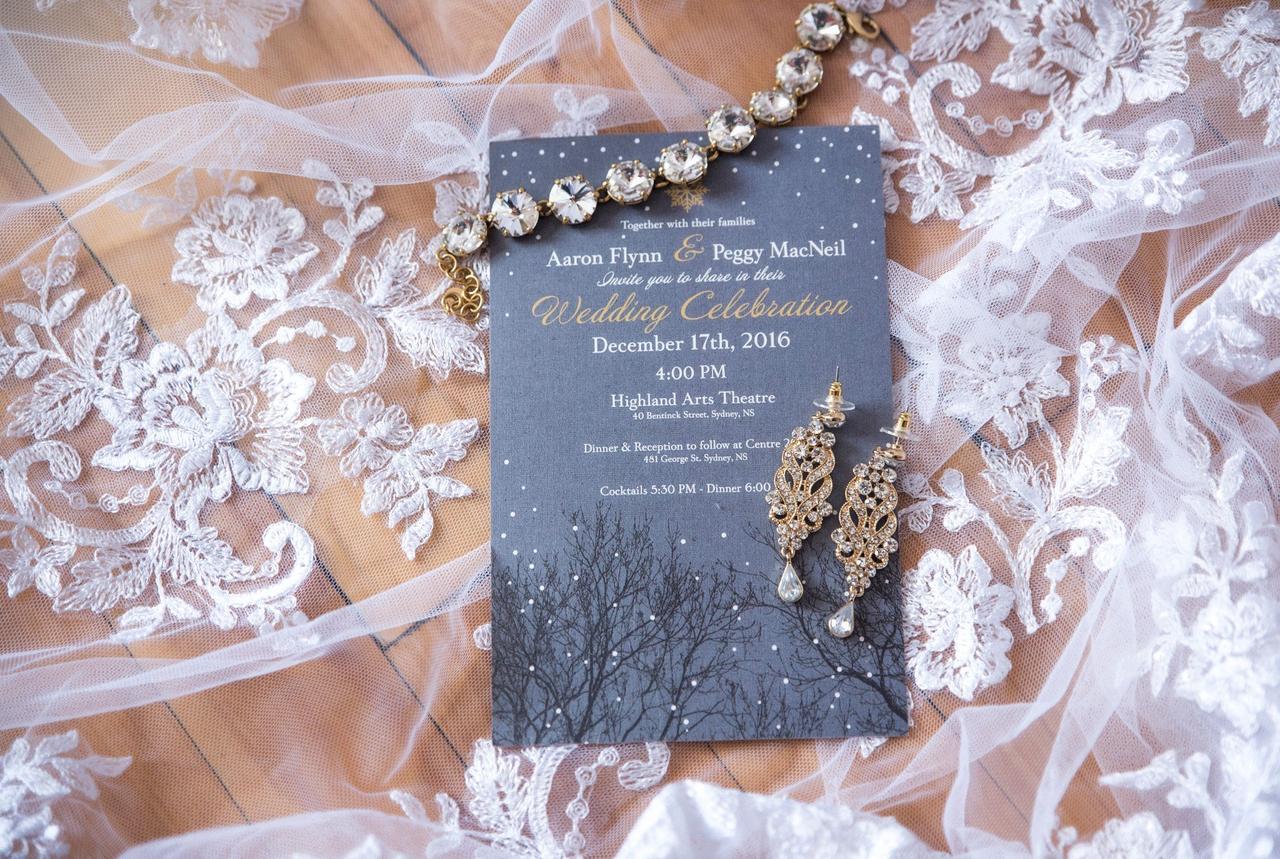 Woodsy winter wedding invitation
This winter wedding invitation idea is super similar to the first, but with a bit of a rustic-chic twist. Instead of opting for a plain base colour, use a wood effect background. While you're at it, add a bit of colour to your tree designs to brighten things up, too.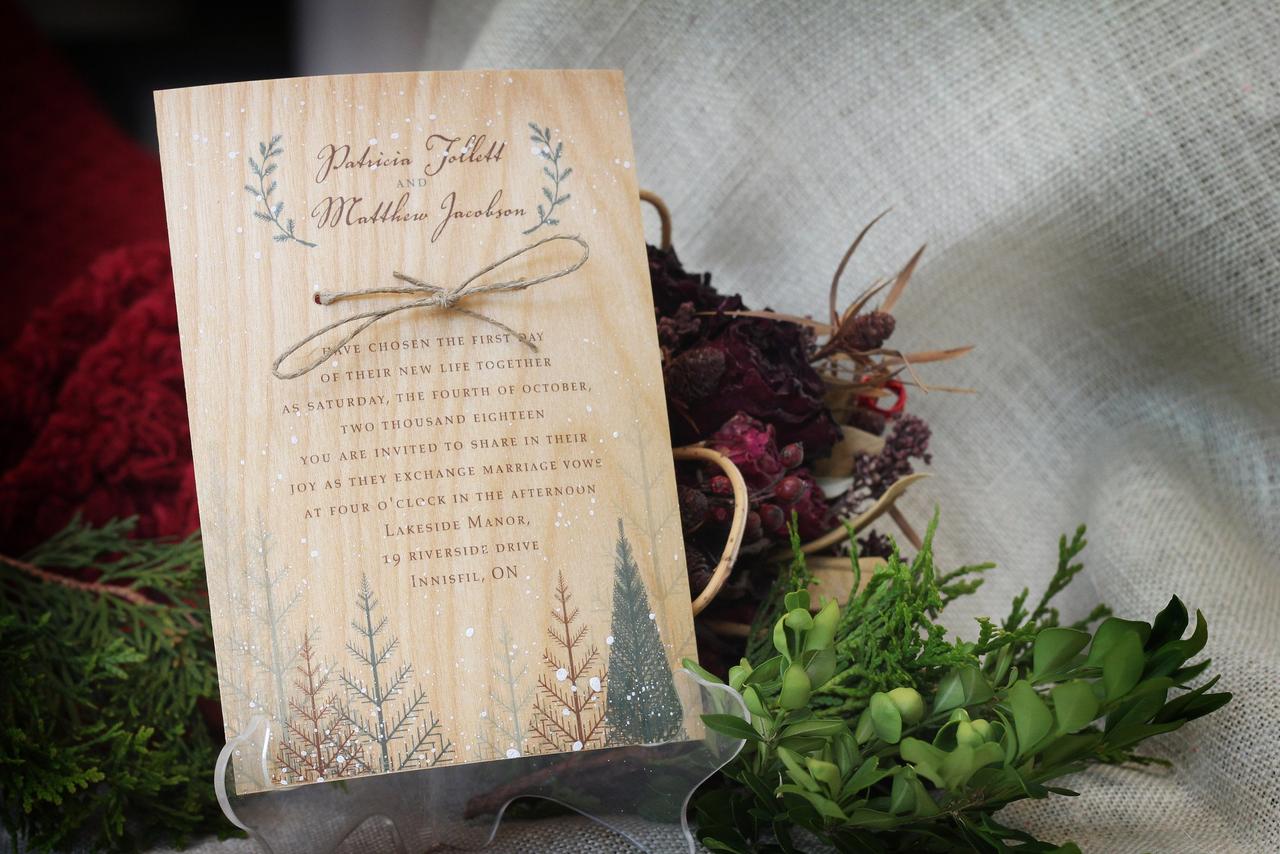 Beautiful bark
If you don't want to involve snow, but you'd like to give your wedding invitations a warm and inviting vibe, get inspired by Mother Nature and use bark as your background. Choose a warm colour palette for your font, envelope and accent details to make your suite look super cozy.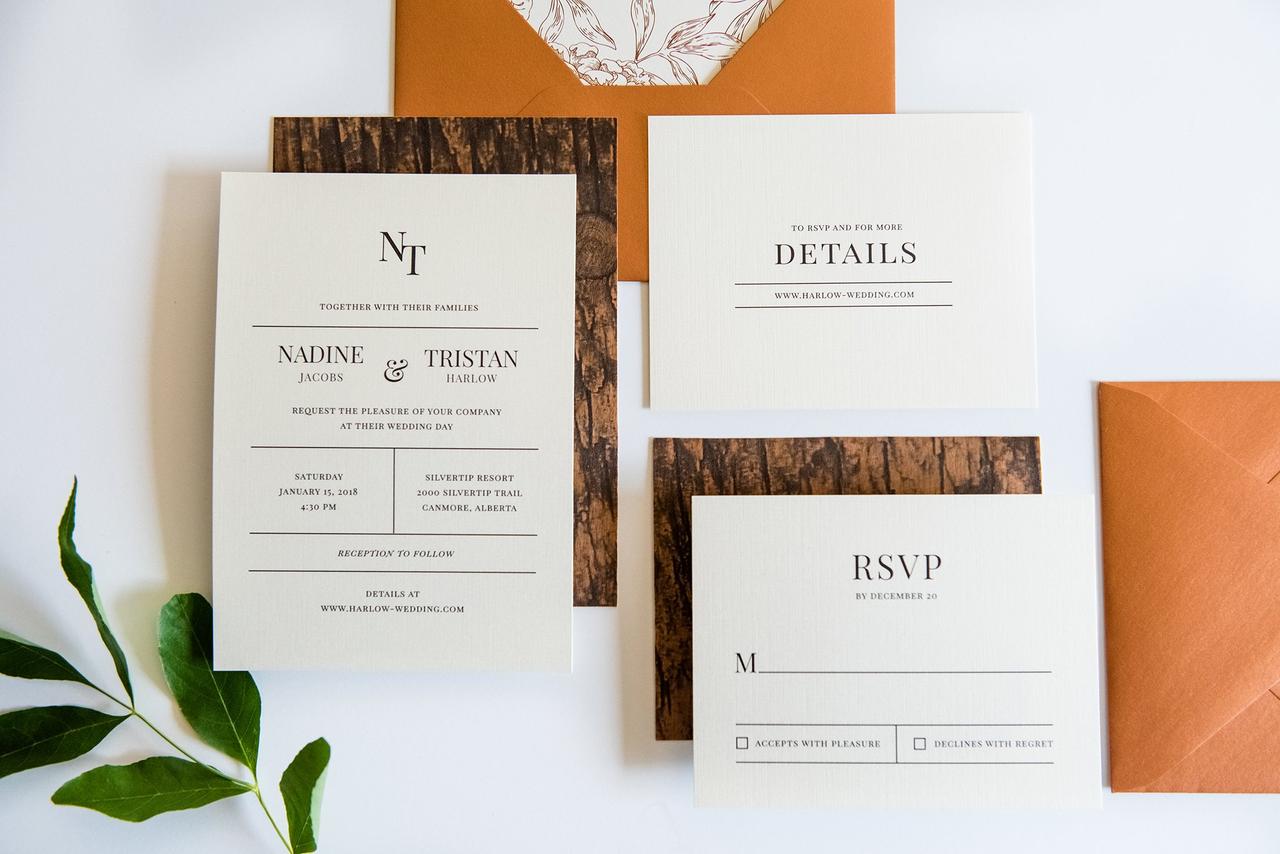 Minimalist snowfall
If you want to add a more minimalist snowy effect to your winter wedding invitations, follow this designer's lead. Instead of etching out actual snowflake shapes and getting into detail, they've added a sprinkling of dots that look a little bit like snow. The black background, white script, and formal font give it the element of luxury, too.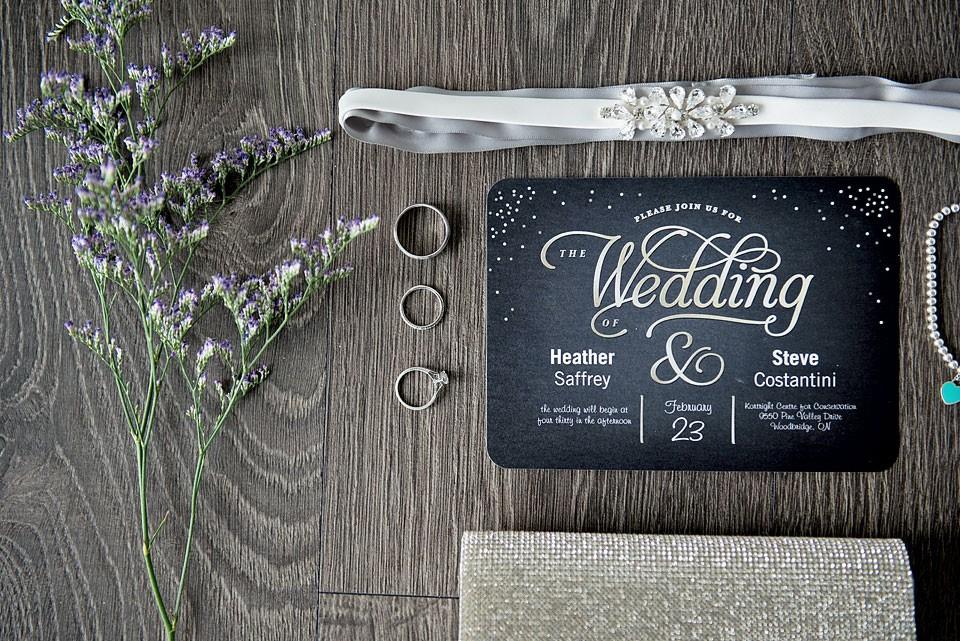 Tartan accents
Tartan is pretty much the official pattern of Christmas, so why not add a bit of it to your winter wedding invitations. You can use it as a border, background, or be a bit more subtle by using it as an accent as this stationer has done.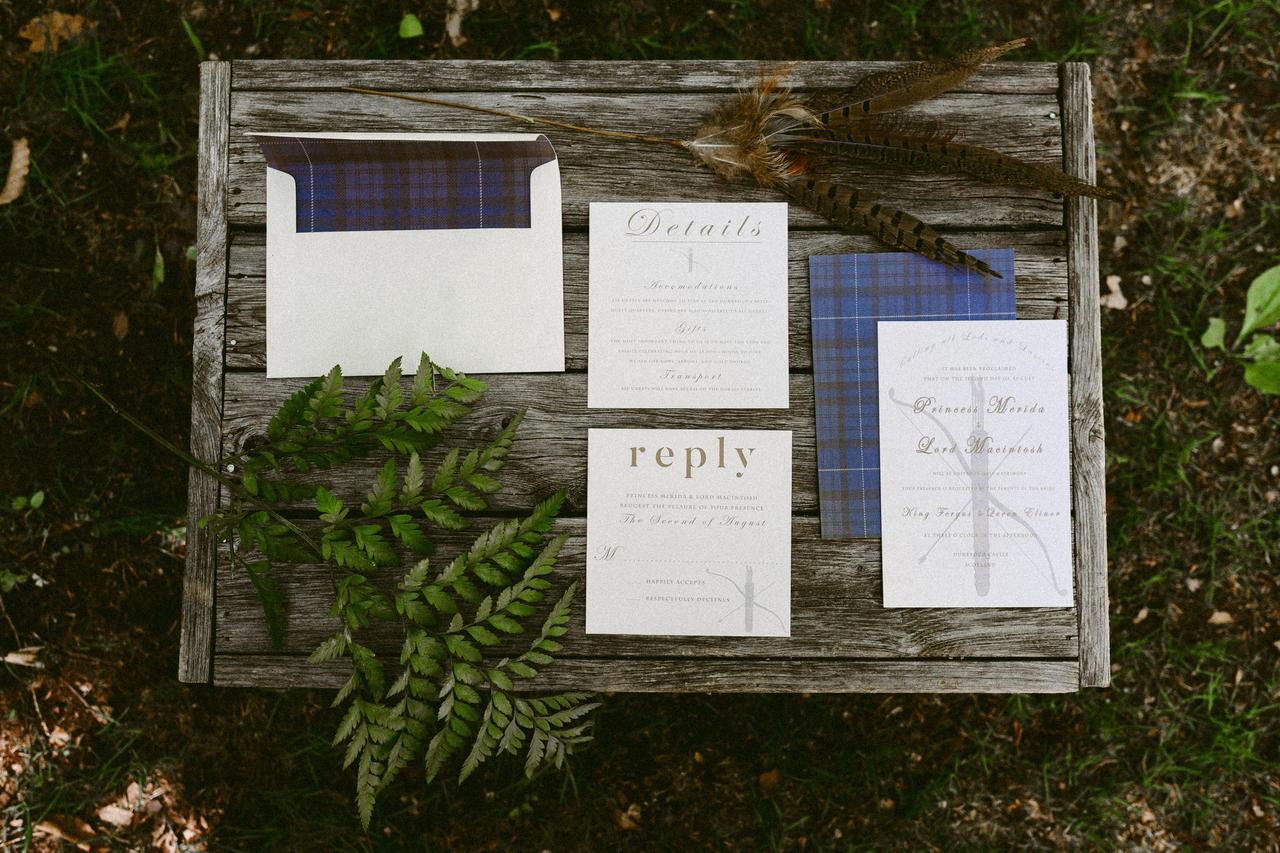 Merry Christmas wedding invitations
Planning a Christmas wedding? Get your wedding guests ready to celebrate with a festive design. Seasonal greenery, berries and 'Tis the Season' script creates a holiday vibe. A gold wax seal is the perfect finishing touch.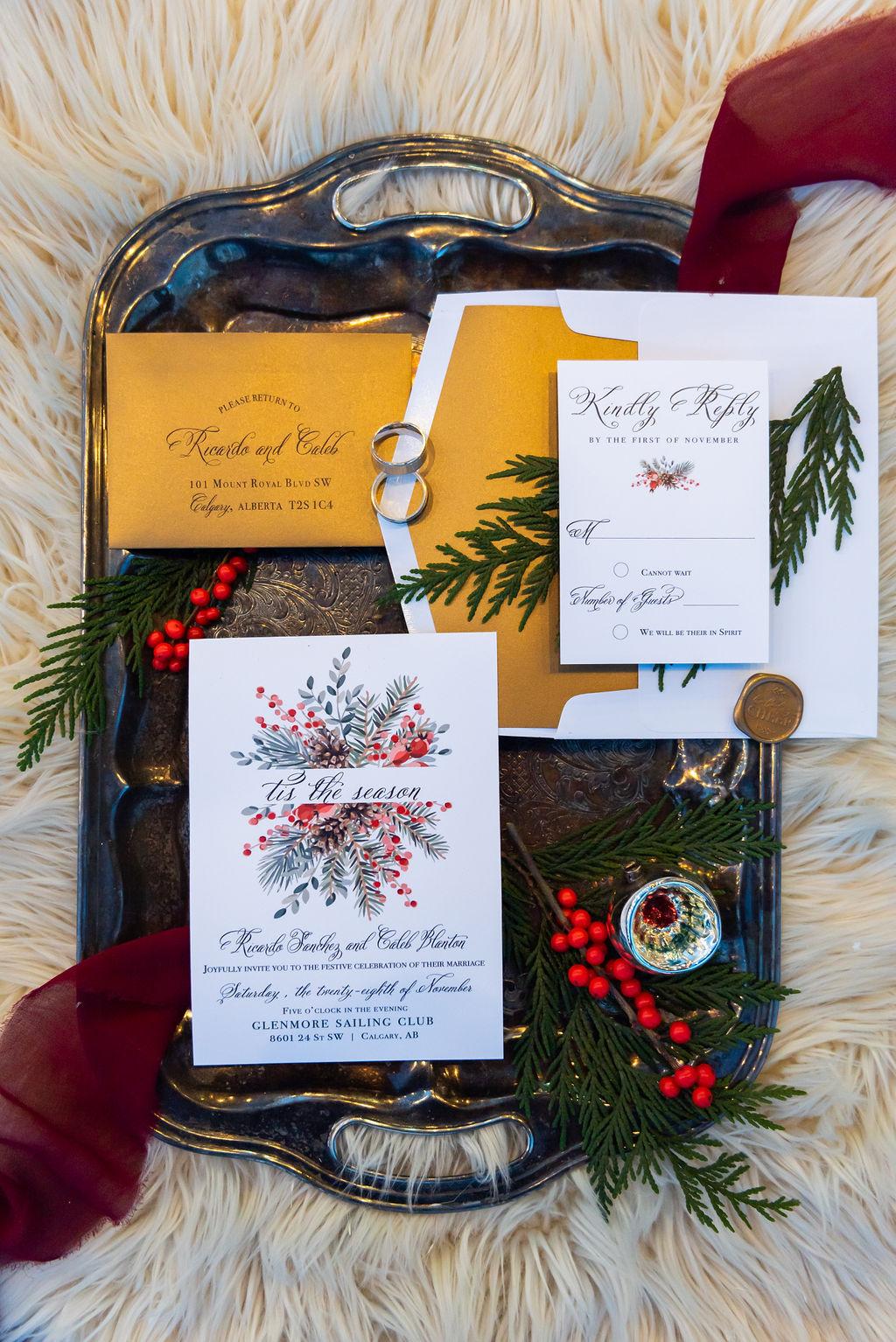 Art Deco Inspired
If you love the look of geometric, Art Deco-style designs, this winter wedding invitation idea will be right up your alley. Choose a dark, jewel-toned base (or black) and top it with a gold geometric border design. The deeper colour pattern and more structured design suits the season perfectly.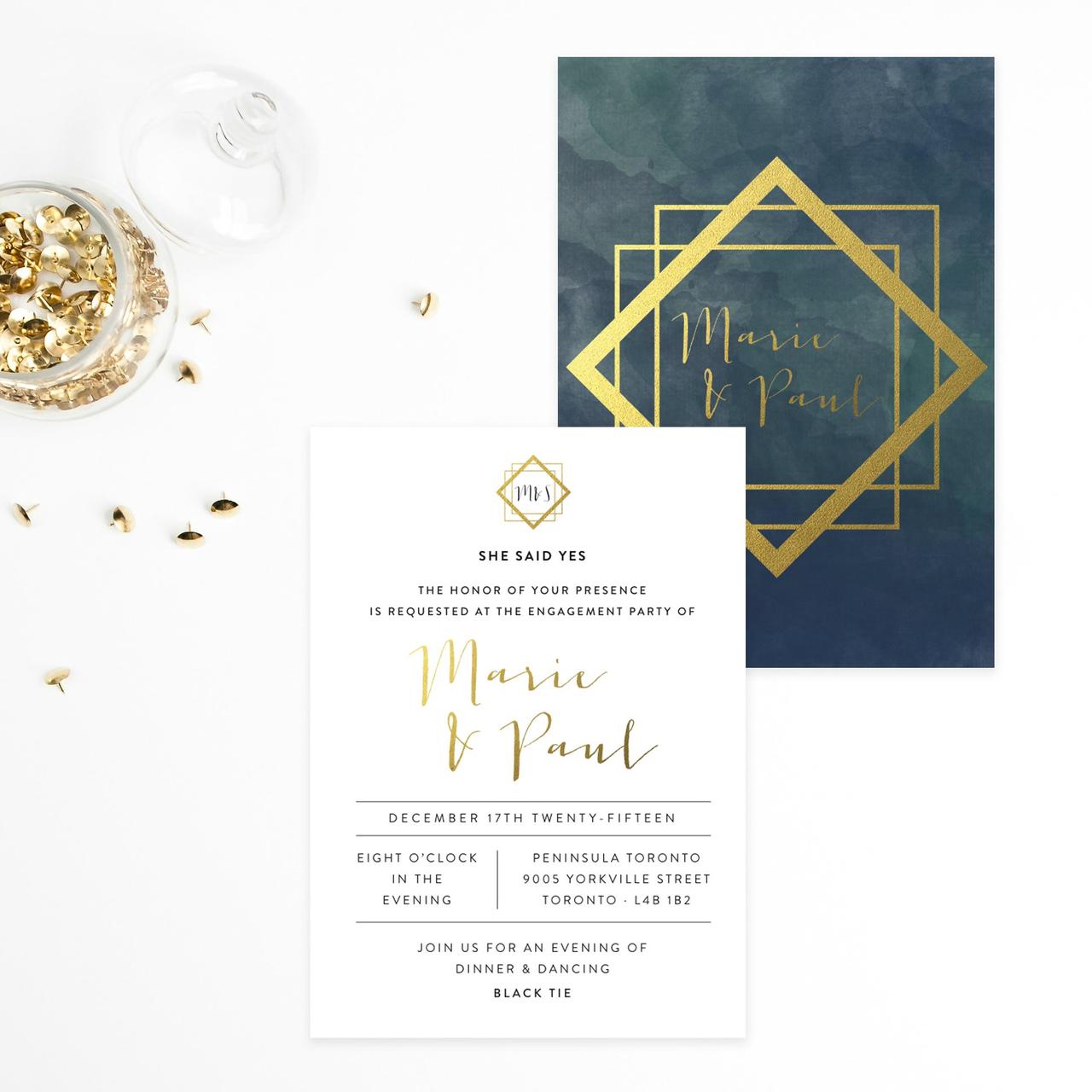 Wreath of greenery wedding invitation
You put a wreath on your door around the holidays, so why not put one on your winter wedding invitations. You could follow this stationer's lead and do plain 'ol greenery or spruce things up with a few ornaments. P.S. we love the watercolour effect they used, but you could do this in any style you love!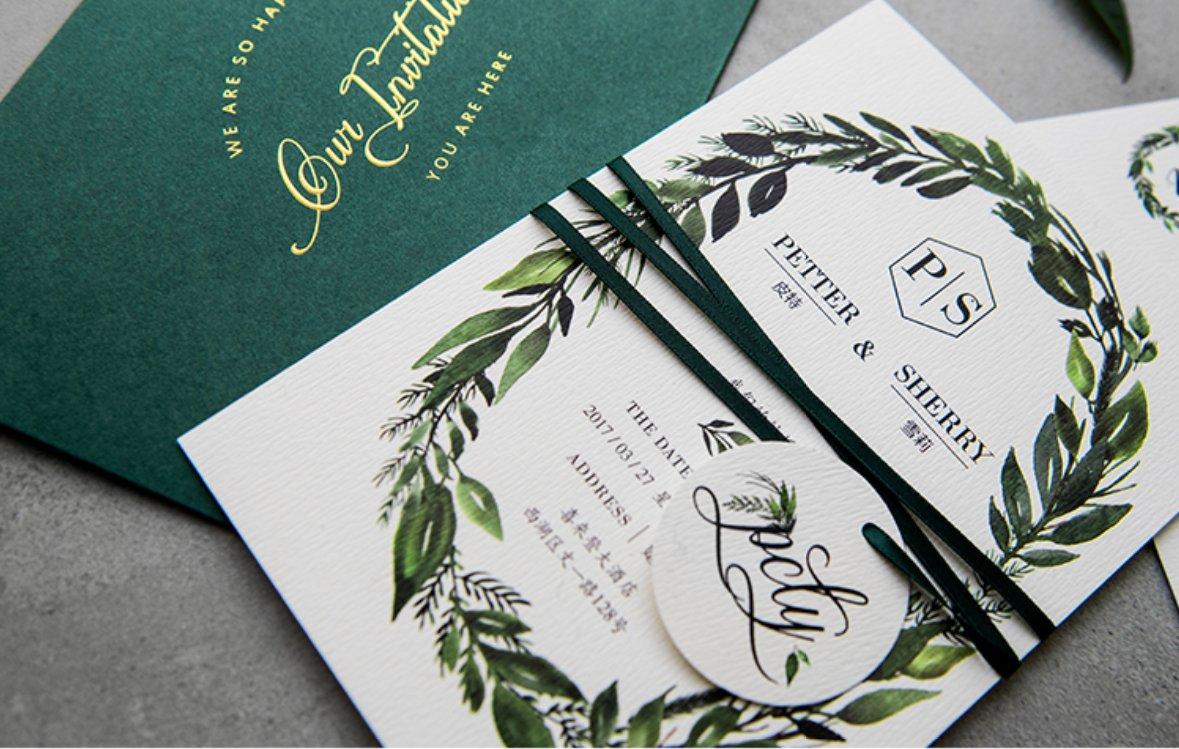 Greenery, berries and pine cones
Delicate illustrations of winter greenery with red berries and pine cones adorn this winter wedding invitation suite. We love how the pattern lines the envelope for a wallpaper effect.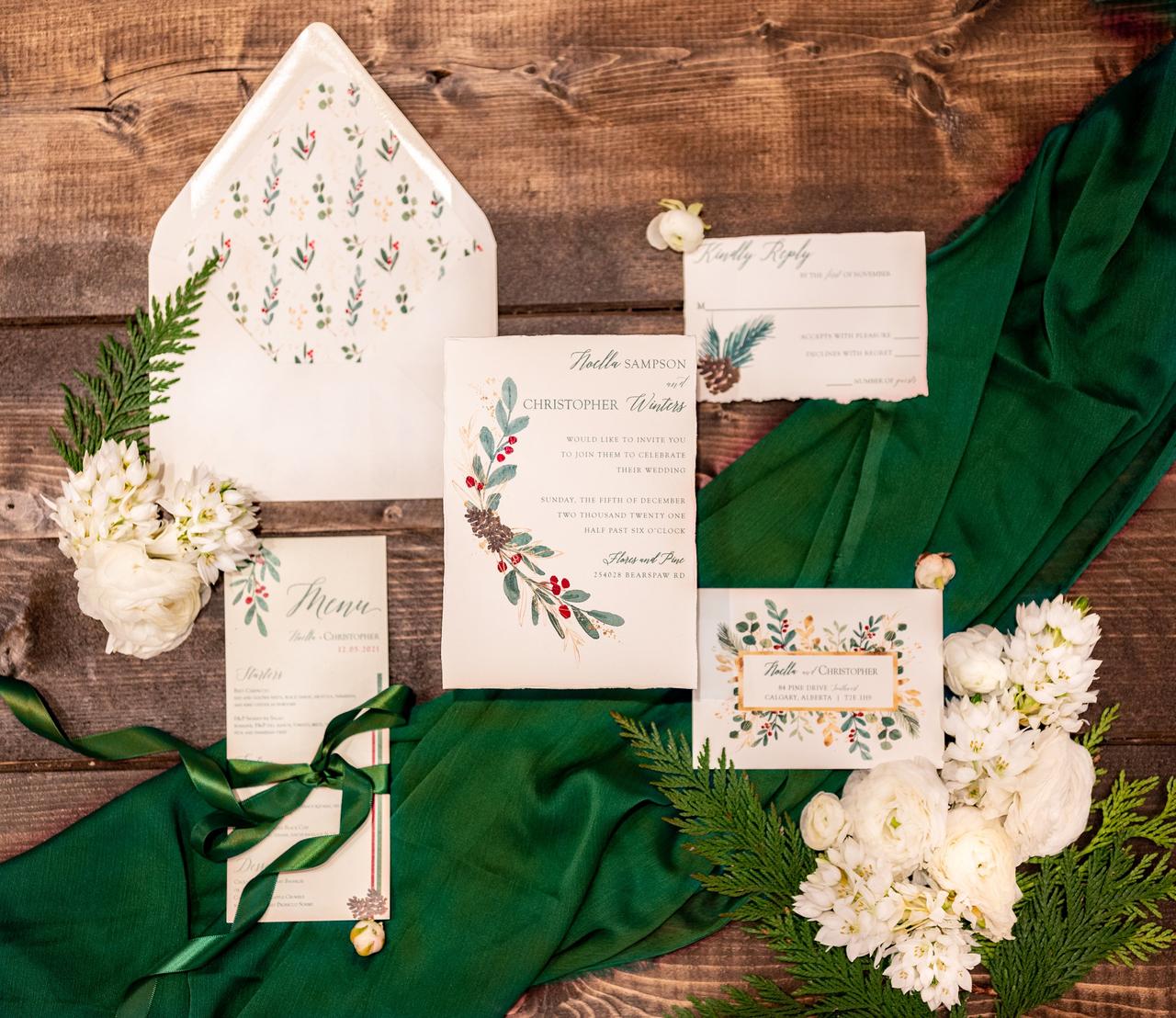 Sweet and simple
Sometimes simple is the way to go! We're head over heels for this minimalist, cool-toned invitation suite that gets straight to the point. If you love the blank canvas look, this is the winter invitation idea for you.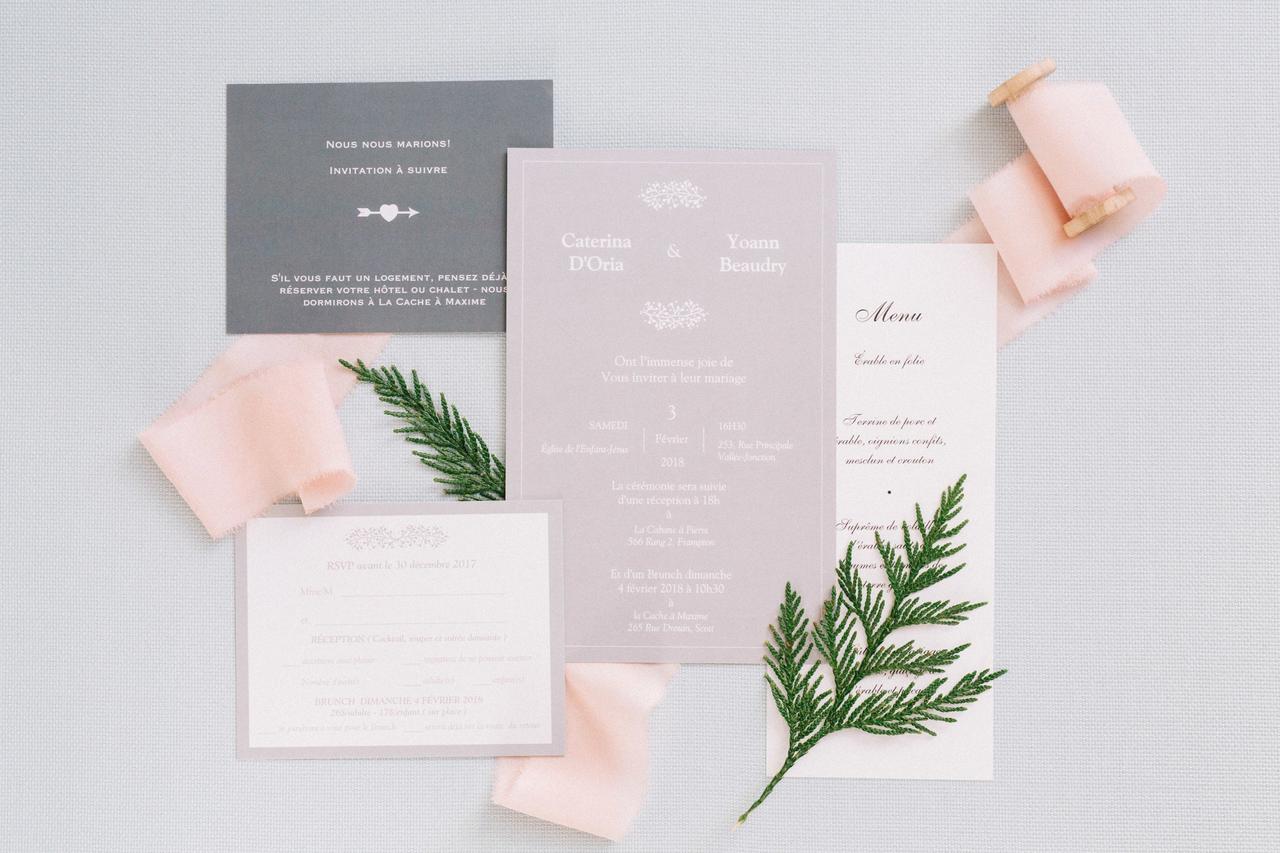 Minimalist and maroon
If you like a simple design, but want to spice things up a bit, choose a jewel-toned accent colour for your envelopes and embellishments. You could even add in a few cute details, like, say a line drawing of greenery or winter berries.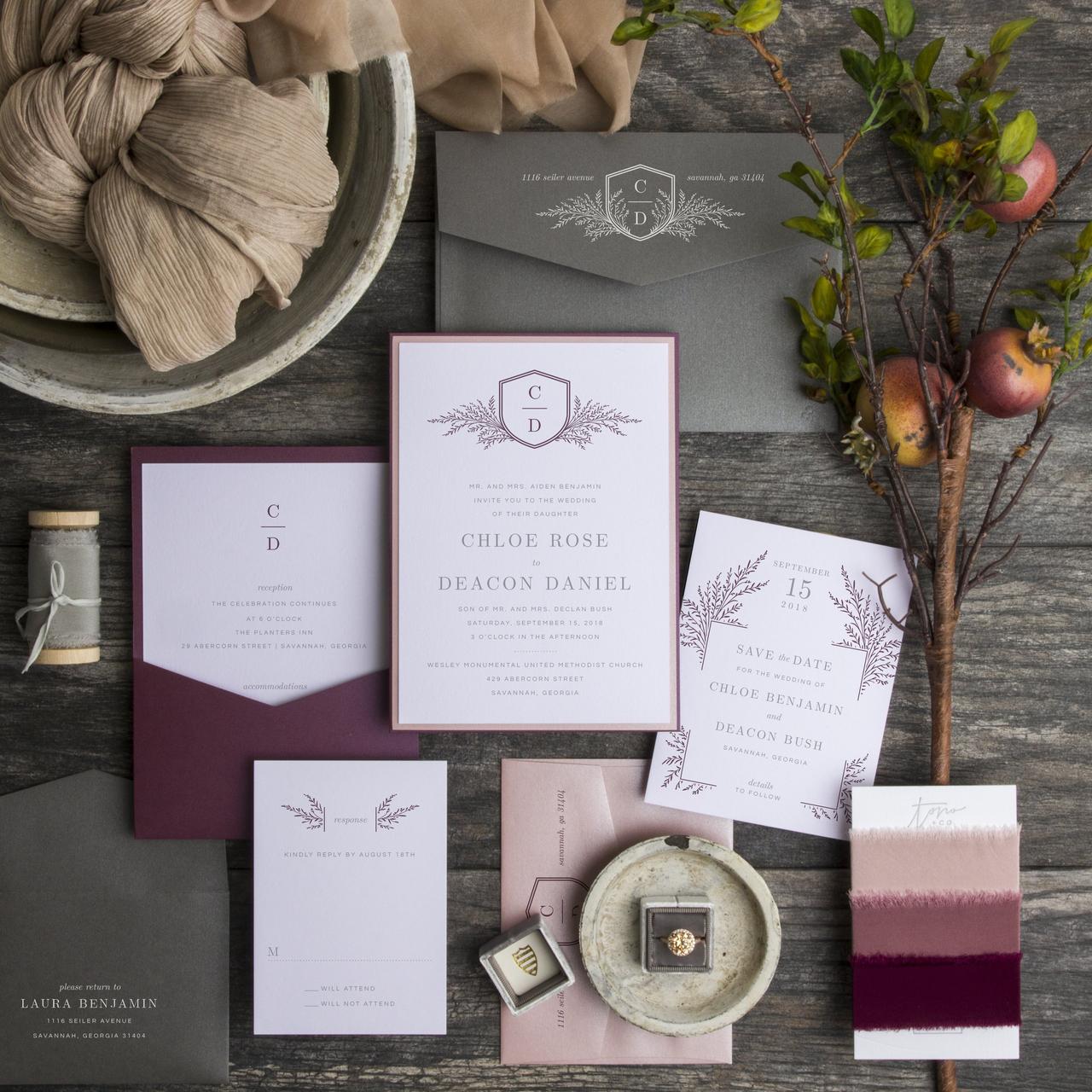 Laser-cut snowflake wedding invitation
Use Frozen as your wedding invitation inspiration by literally covering them in snowflakes. Choose a colour palette that matches Elsa's iconic gown and then top it off with a ton of bright white snowflakes. If you want to take things to the next level (and don't mind spending a bit more) add a laser-cut front cover, as this designer did.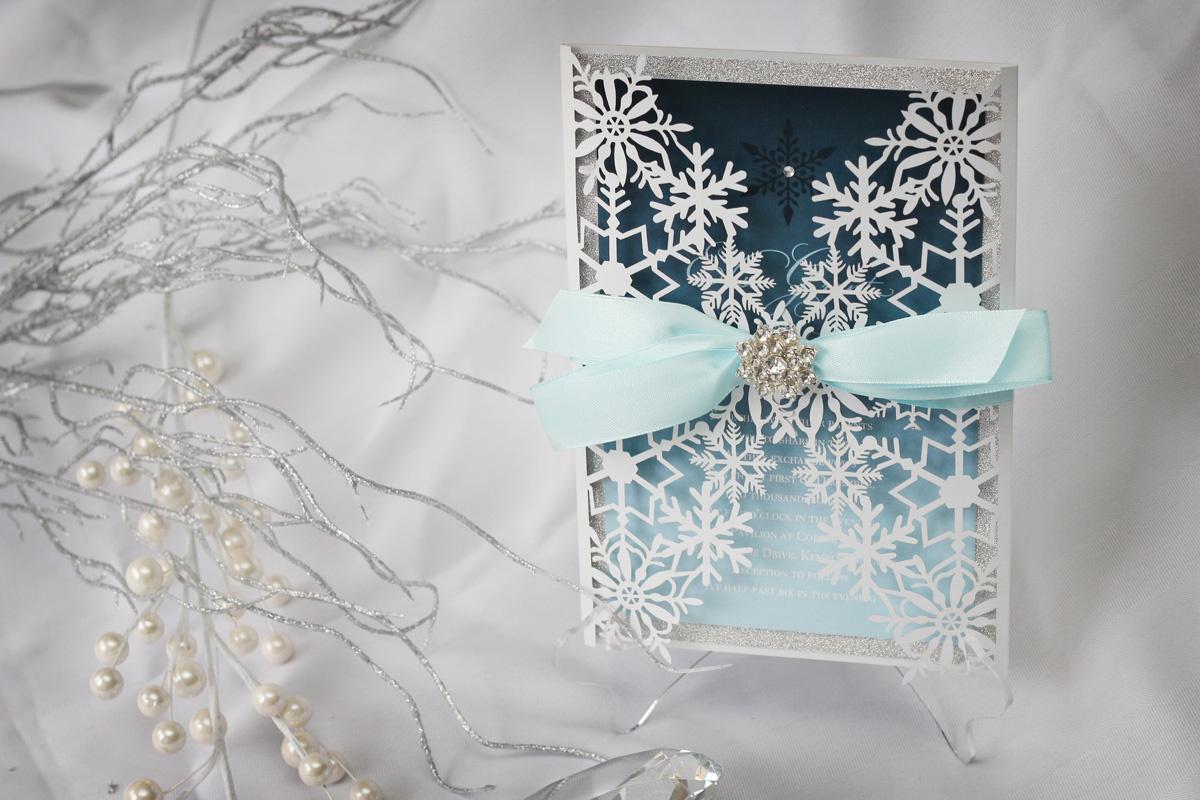 Vintage botanicals
If you love florals, but don't want to use bright and bold blooms on your wedding invitations, swap them out for more neutral vintage botanicals. These work especially well if you're embracing an old-timey theme or have chosen a historic or greenhouse wedding venue.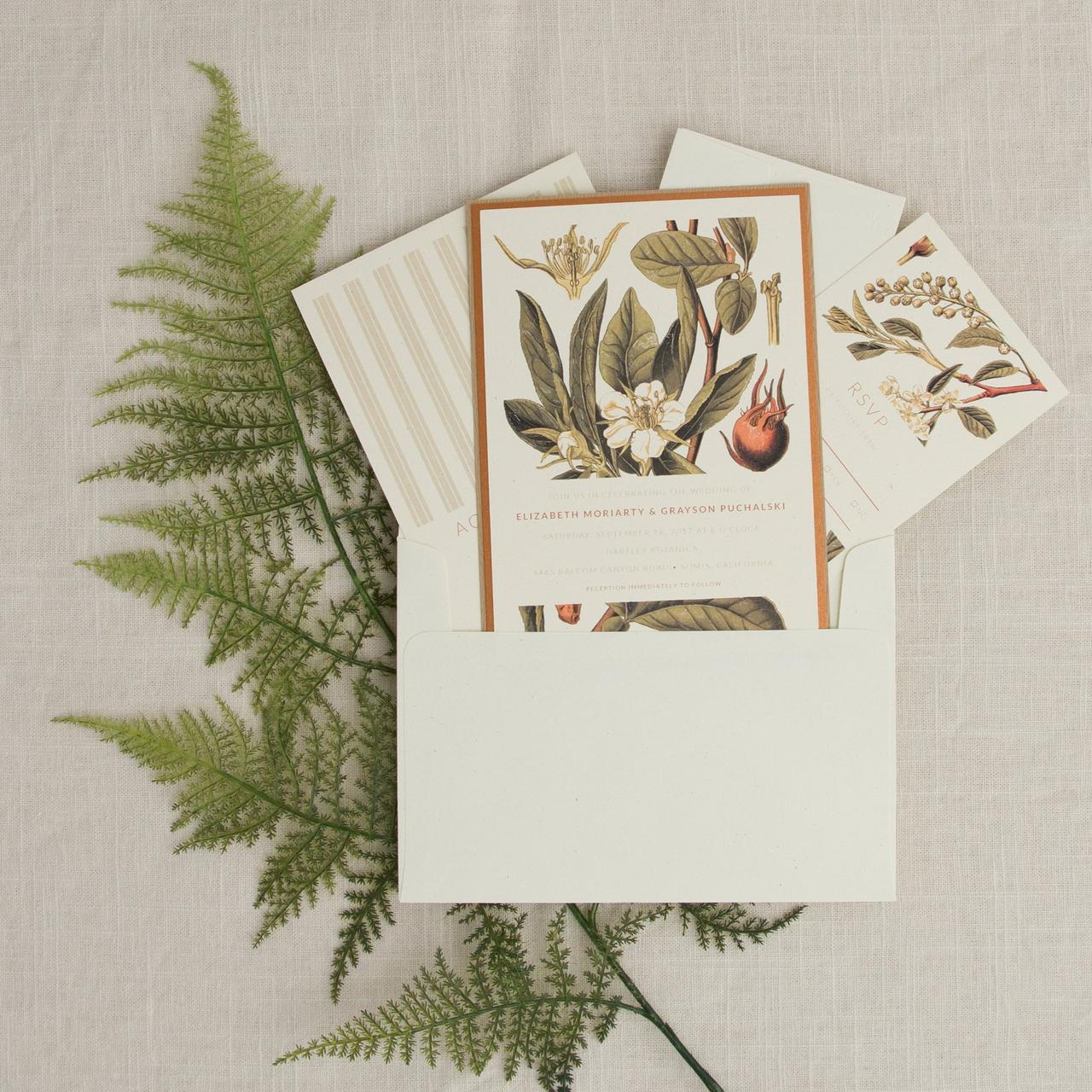 Elegant black and gold
If you want a more luxurious winter wedding invitation style, these will be right up your alley. We especially love the dark colour palette, worn-in paper style, and glossy gold accents.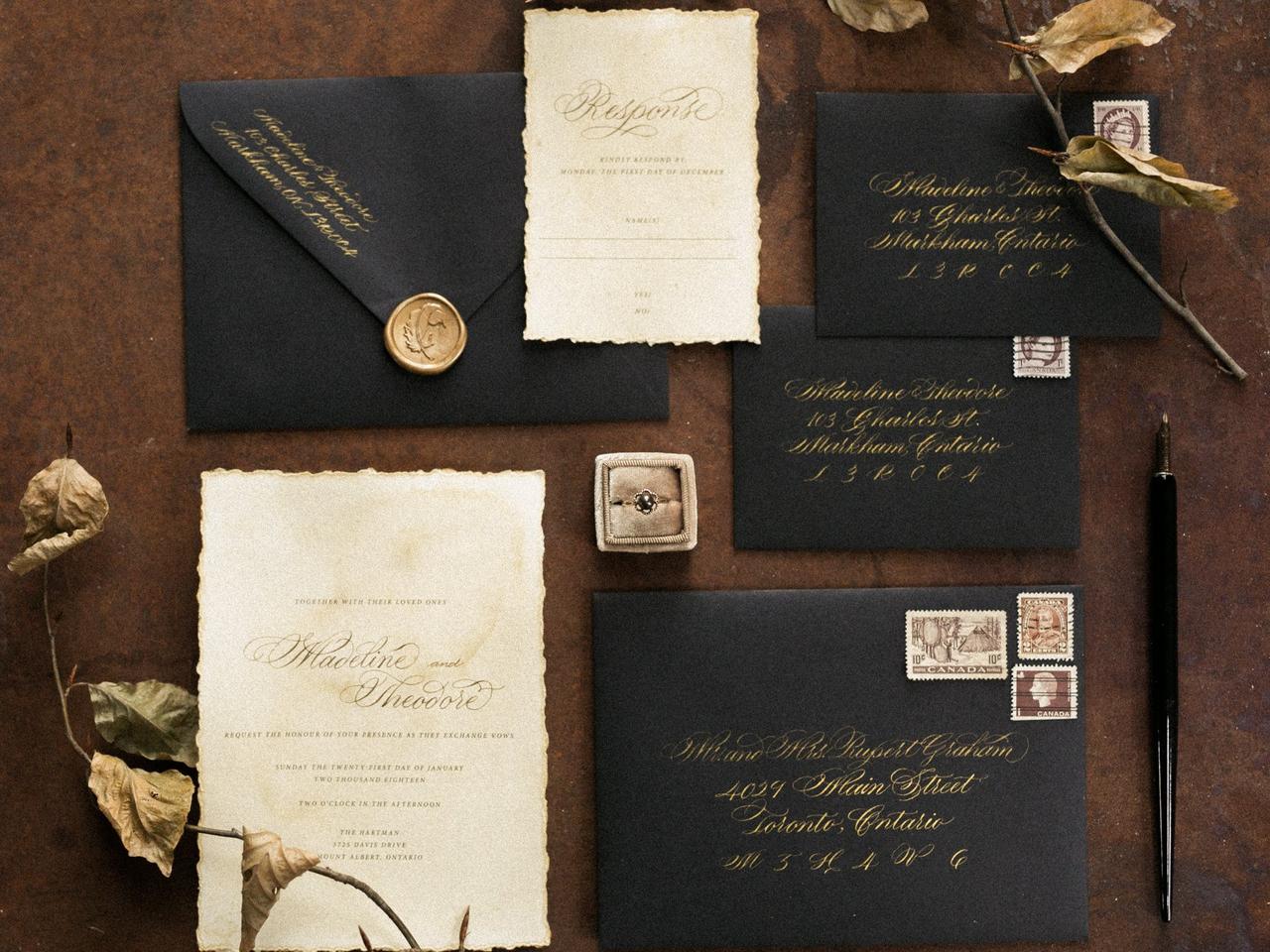 Jewel tone florals
If you're going to embrace floral patterns in the winter, it's best to choose jewel-toned hues so that things don't end up looking too summery. After all, you don't want your guests thinking they'll be going to a garden party in December. We love how this designer chose a dark accent hue and didn't go too overboard with the blooms (they're actually only featured on the envelope liner!).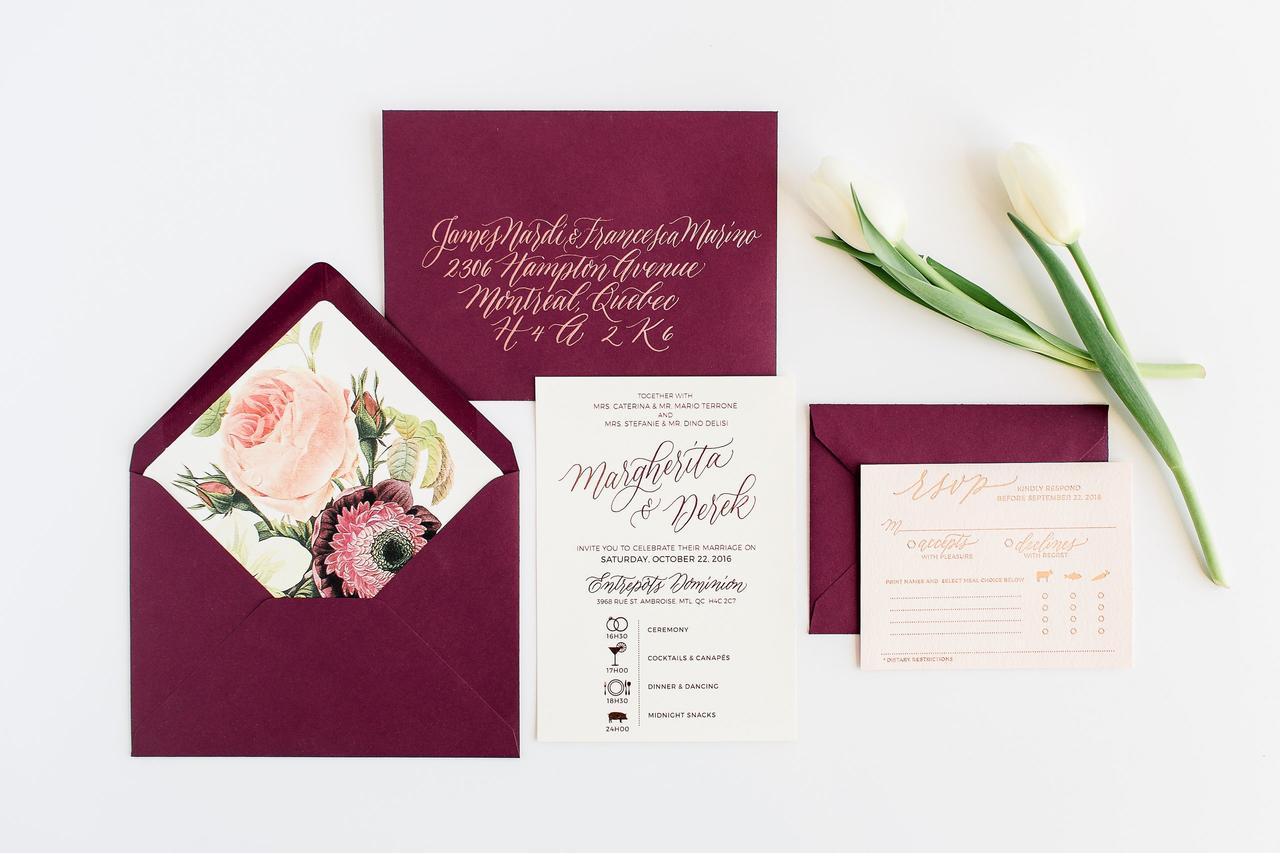 Warm earth tones
For a rustic-chic wedding style, this invitation suite featuring warm earth tones and some tactile fabric accents is quite unusual and eye-catching. We love the idea of having your guests lift up the layer of fabric to reveal the invitation details.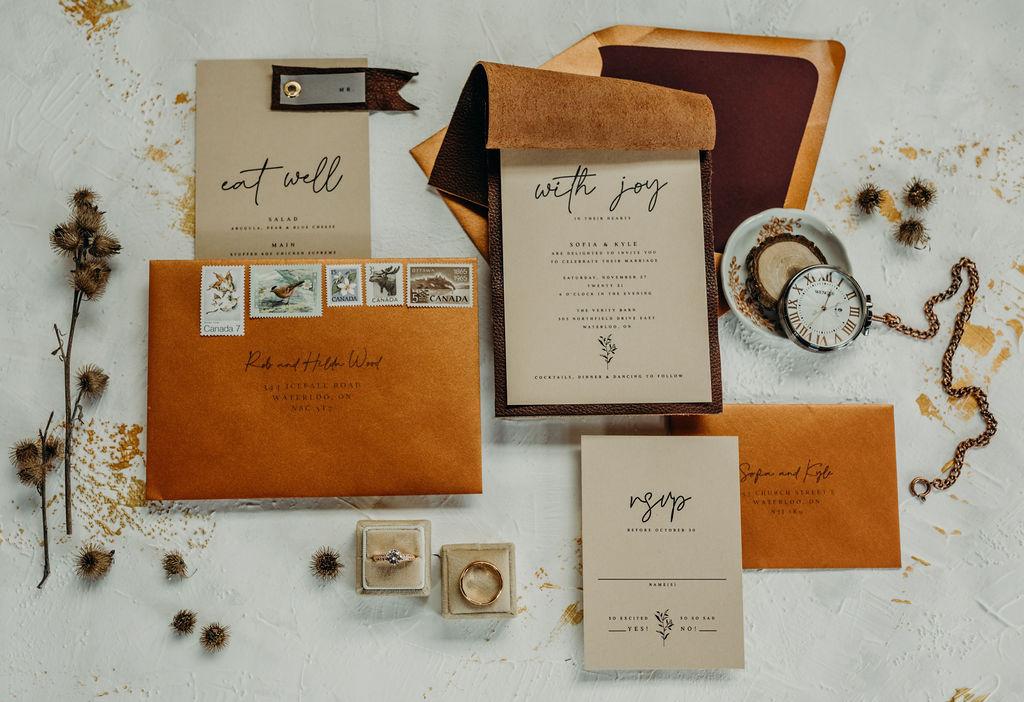 New Year's Eve wedding invitation
Tying the knot on New Year's Eve? This elegant clock design is perfect for an NYE-themed winter wedding invitation. The gold ink design on a square invitation tucked into luxe burgundy envelope is the perfect combination for an elegant evening wedding.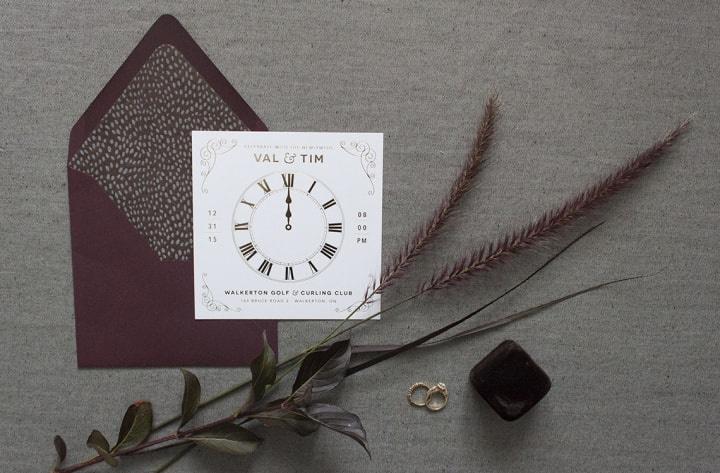 Eclectic gold details
This winter wedding invitation suite is a great example of eclectic design elements coming together based on a primary colour choice. The modern geometric invitation design paired with a gold envelope featuring a metallic floral illustration on the liner and gold wax seal is simply gorgeous for a winter wedding.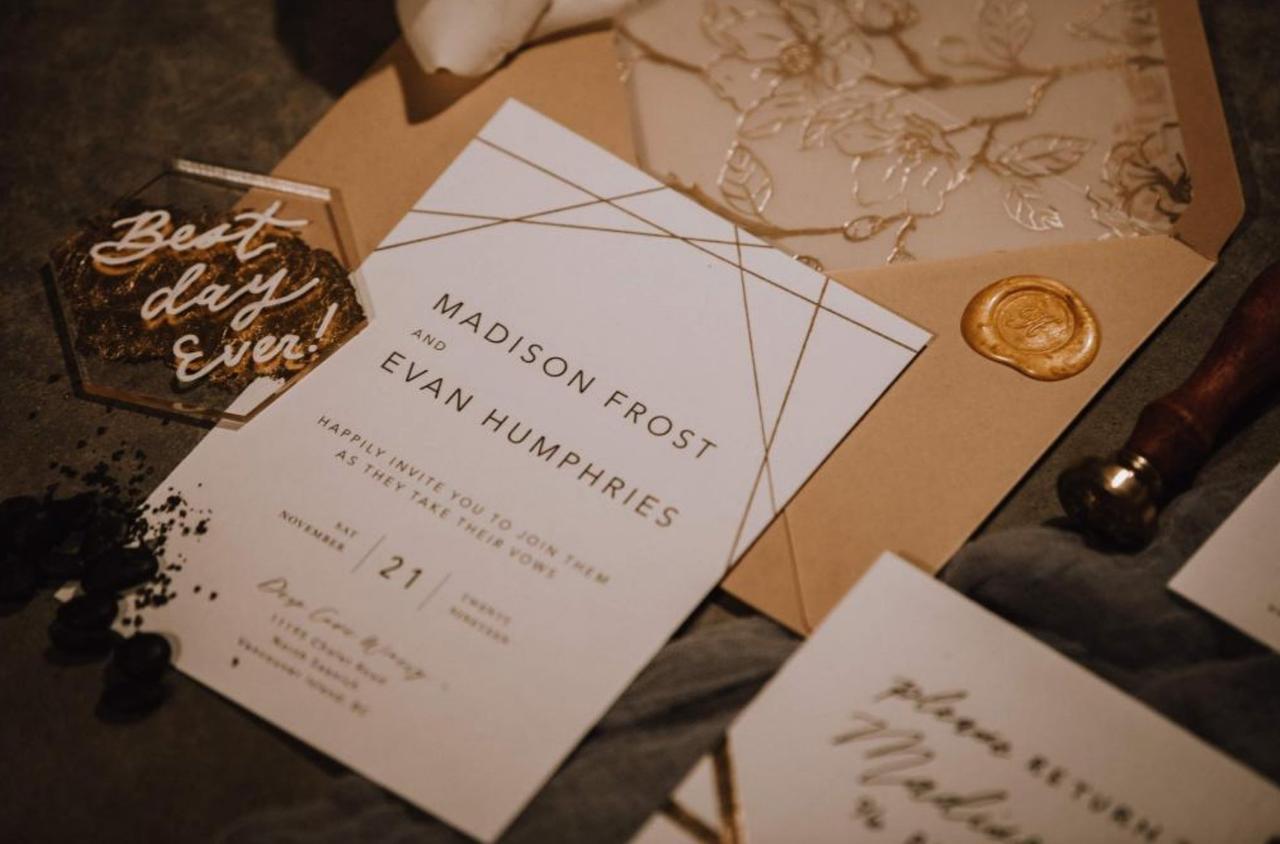 Romantic Valentine's wedding invitation
If your wedding date is in February, you can embrace the romance of Valentine's Day with soft pink and ivory winter wedding invitations. Use a wedding monogram with a black ink floral illustration printed on deckle-edged paper and a gold seal accent for a look reminiscent of love letters.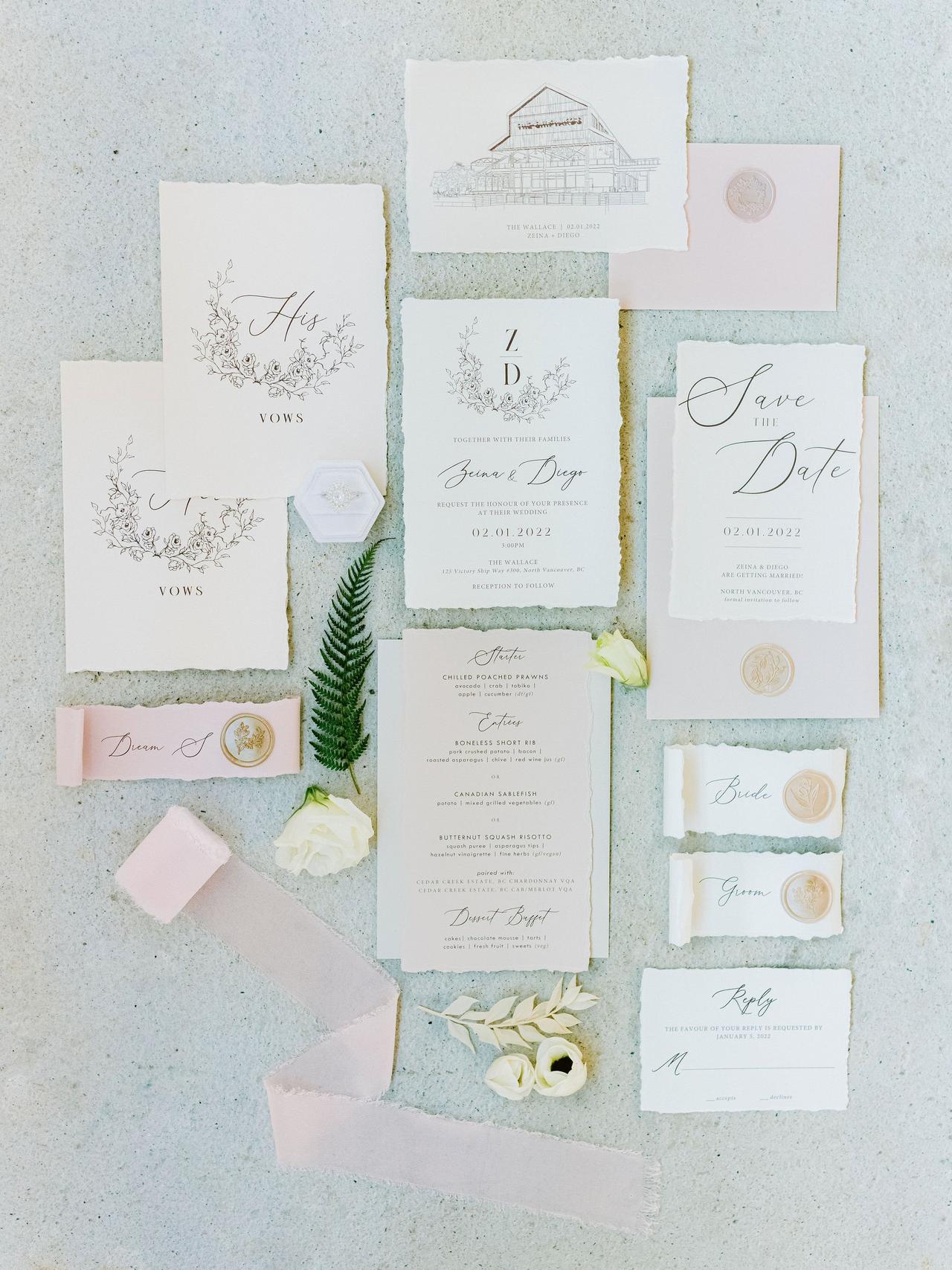 Roses are red
For a design that's bolder and blingier, take inspiration from this dramatic red, black and gold winner wedding invitation suite. A beautiful red rose pattern is paired with a gold foil design printed on matte black card stock—perfect for a formal wedding.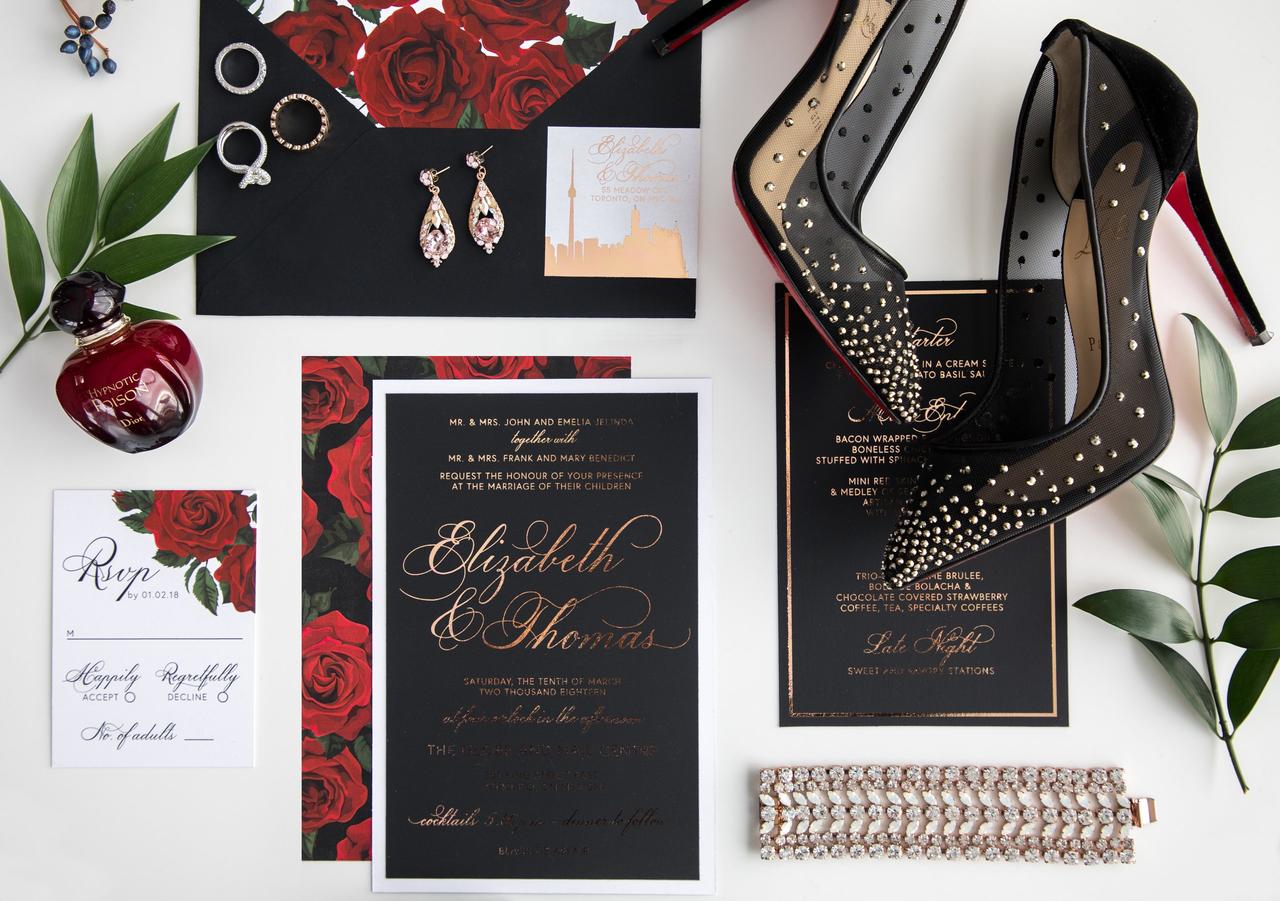 Find more wedding invitation ideas and stationers on WeddingWire »